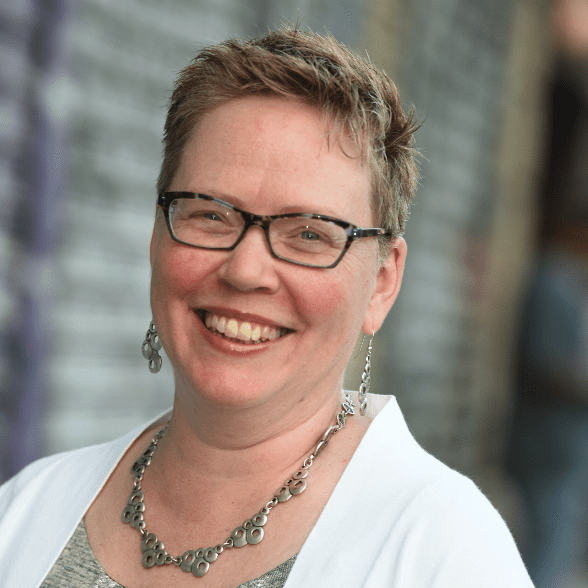 Melissa Aase
Chief Executive Officer
Dear Friends,
Last March, as COVID-19 arrived in New York City and the first lockdown took hold, I wrote to University Settlement's supporters to outline how we approach crises, noting that we would prioritize:
Access to basic needs, ensuring our neighbors had food and other necessities;
Social justice and social equity, advocating against the disinvestment that often follows emergencies;
Public health engagement, securing community access to effective medical information and healthcare; and
Communality, finding creative, joyful ways to be "together" even across social distance.
We didn't yet realize that 2020 would stretch into what sometimes felt like a permanent emergency, as the pandemic spun out of control, as political responses sputtered, and as the murders of George Floyd, Breonna Taylor, and Ahmaud Arbery shocked the nation into perhaps the largest sustained uprising for racial justice in its history.
We're still deep in these challenges. You can barely scratch the surface of the loss we've experienced by counting the people who've passed. Our neighbors have had to navigate systemic inequity even while the weight of the crisis has fallen disproportionately on our communities. And although the advent of safe and effective vaccines gives hope, the limitations of the campaign to vaccinate at-risk New Yorkers throw issues of health equity into sharp relief.
But as we've gone through one of the darkest years in University Settlement's 135-year history, I've often had the opportunity to reflect with gratitude on all the things we can count on. Like: the enduring wisdom of our organization's holistic approach to social engagement, which informed our crisis response and ensured we stayed connected with our neighbors even when we could no longer be in person together. The incredible dedication and ingenuity of our staff, which enabled us to quickly expand programs like food delivery and mental healthcare to meet rapidly increasing demand. And, of course, your continued generous support, which empowered us to continue innovating and planning for the future, even amidst a cascading once-in-a-generation crisis.
We're still figuring things out every day. Many of our programs remain entirely remote; those that have returned in-person, like our Early Childhood centers, are following strict safety procedures that require close collaboration between our teams, caregivers, and students. But while the logistical challenges this requires can sometimes seem daunting, partnership like this has always been at the heart of our approach. They're why we say: NYC is US. You can't have New York City without the people who bring it to life – all of us, every age, every neighborhood, every contribution. As we move into whatever's next, that principle will continue to light our way.
In gratitude,
Melissa Aase
At our Learning Lab at PS 134, students access remote learning support.
Consultation Center staff coordinate mental healthcare for our communities.
Izayah on his way to deliver food to homebound seniors.
We fight poverty and systemic inequality by engaging our neighbors of all ages, from newborns to elders, with innovative, responsive programs that address basic needs while facilitating culture, learning, and community.
Every year, we support 1,500 young children and families with a spectrum of education and care services including center-based learning, neighborhood-based family childcare, and home-based assistance.
Advocacy & Community Action
We work with and on behalf of community members to advocate for social justice, secure access to resources, and support policies that empower New Yorkers to achieve healthy, stable, and remarkable lives. Key issues include access to safe housing, healthcare, and quality education.
Our eviction prevention program provides New York City community members with housing case management, counseling, and financial management services, all of which help families steer clear of eviction crises and preserve their affordable homes.
Through 17 afterschool sites, we offer programming to nearly 4,000 youth at the elementary, middle, and high-school levels annually. Our approach is rooted in positive youth development and social-emotional learning frameworks that build students' self-awareness, self-expression, and self-management skills.
We engage over 2,100 low-income seniors annually through a network of services including meals, health, wellness, recreational activities, case assistance and management, housing counseling, and referral resources. Services are offered at four Manhattan sites, or through targeted support and technology for homebound seniors.
Recognizing art as a powerful tool to build the social wellbeing of communities, we offer two distinct, transformative arts programs. The Creative Center harnesses the healing power of art, connecting with older adults, patients and survivors, and healthcare staff. The Performance Project works to build equity in the arts by facilitating collaboration between artists and recent immigrants, seniors, and public housing residents.
400+ low-income, adult immigrants in NYC participate in our comprehensive 10-month English and civic education program annually – building language and systems literacy skills to navigate life in our complex city, support their families, and achieve their goals.
We offer a range of services in both traditional and nontraditional settings in order to reach residents across our neighborhoods, in whatever capacity they are most comfortable, offering "right fit" services to people seeking emotional and behavioral support.
For 135 years, we have been an integral part of the social fabric of the Lower East Side and of New York City. As our communities navigated crises in 2020, we continued to uphold our commitment.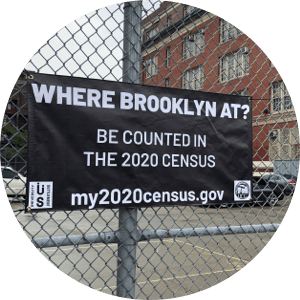 When the U.S. Census undercounts a community, it can be financially and politically devastating. Understanding the Census as an urgent social justice issue, we led efforts to reach typically undercounted communities in our neighborhoods, and the City outperformed expectations despite the pandemic.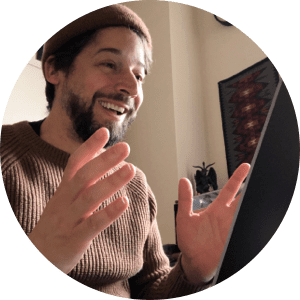 We continued to deliver life-changing English language and civic engagement instruction to hundreds of immigrant adults by transitioning all instruction 100% remote.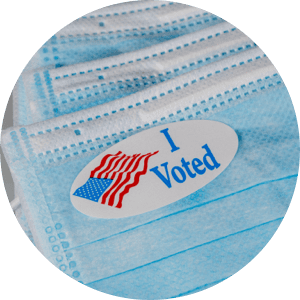 In an historic election, we coordinated outreach in English, Spanish, and Chinese encouraging members of our community not just to vote, but to take action to support the democratic process.
Providing Services to More New Yorkers
In 2020, we expanded our Early Head Start and Family Child Care Network into Brooklyn and launched the Prevention Program, which engages families to address and combat the root causes of foster care, in East New York.
WE HAVE BEEN SERVING THE LOWER EAST SIDE AND NYC COMMUNITY SINCE 1886.
1890 First Kindergarten in New York City
Do you remember your kindergarten teacher's name? The idea that young children benefit from supportive play-based learning, rather than the repetitive imposition of rules, is relatively recent. A German import, it took root at the Settlement early in our history, and our spin on it became a widely emulated prototype as public kindergartens opened nationwide. Today, our Early Childhood education programs are likewise recognized for their effectiveness in engaging young learners.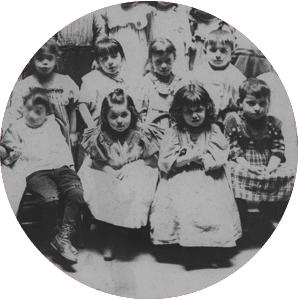 Community-Based Mental Healthcare
When many of our neighbors returned home from World War II traumatized with shellshock, or suffering from what we would now recognize as PTSD, we opened one of the first publicly accessible mental health clinics in the country, our Consultation Center. Our early engagement in making mental healthcare broadly available helped break down significant societal stigmas, and our Mental Health programs continue to lead by making high-quality, culturally sensitive, effective treatments available to our communities.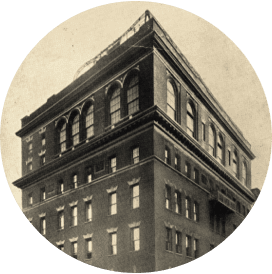 Sometimes it's really true – the rent is too damn high! New York City can be a punishingly expensive place to live, and homelessness is a clear and present danger for many families in our communities.We founded Project Home to help our neighbors navigate tricky situations ranging from job losses, to family instability, to landlord abuse – helping prevent homelessness by keeping people in their apartments. In the last 30 years, the challenges working people face trying to pay the rent haven't decreased, but we've helped thousands of families find their way forward. When the COVID eviction moratorium ends, we anticipate Project Home will be more vital than ever.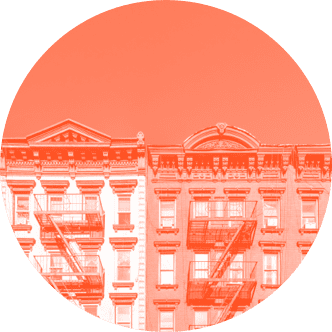 SUPPORTING US SUPPORTS NYC.
NEIGHBORS
HELPING NEIGHBORS
Behind every number in this story, and in this report, there are real people – neighbors helping neighbors navigate real problems. When you support University Settlement, you're helping us partner with our neighbors to build community strength.
WELLNESS CHECK
CALLS WEEKLY
Increase in meals
delivered weekly
Several mornings a week, Izayah wakes up before the sun rises in Flatbush, Brooklyn, and journeys to the Lower East Side, where he delivers meals to homebound seniors as part of University Settlement's Meals on Wheels program.
He's playing a key role in our commitment to meet our neighbors' basic needs in the crisis.
As the first lockdown took hold last March, it was immediately clear that our Older Adults programs would need to rapidly shift gears to maintain services for our community, particularly since so much of our programming for elders is communal, including meals, social activities and exercise, and wellness checks. Social distancing guidelines and the fact that COVID-19 was so much more dangerous for elders meant we had to rethink everything we do, even while demand for services rapidly increased.
Within several months, our direct delivery of food and basic supplies for older adults stuck in their apartments and low-income families increased by 285% – from 1,400 meals per week to more than 4,000.
As the crisis deepened, we were also actively connecting on virtual wellness checks with more than 2,000 of our neighbors weekly.
Izayah has long been part of our broader community – before the pandemic caused operations to shift online, he'd been working on the maintenance team at our partner agency The Door. Before he worked there, he'd been part of its community, as a Member.
He says that delivering food is personally satisfying work. His grandmother has also received food assistance, and when he knocks on people's doors he sometimes thinks about her.
In this crisis, and particularly in the first and most intense lockdown, sometimes a knock on a door from our food delivery person could be one of the most significant interactions an elder would have in several days. Ben, another member of our delivery team, encountered an elder who had fallen and couldn't get up – he heard them shouting, and was able to call 911 to get them help.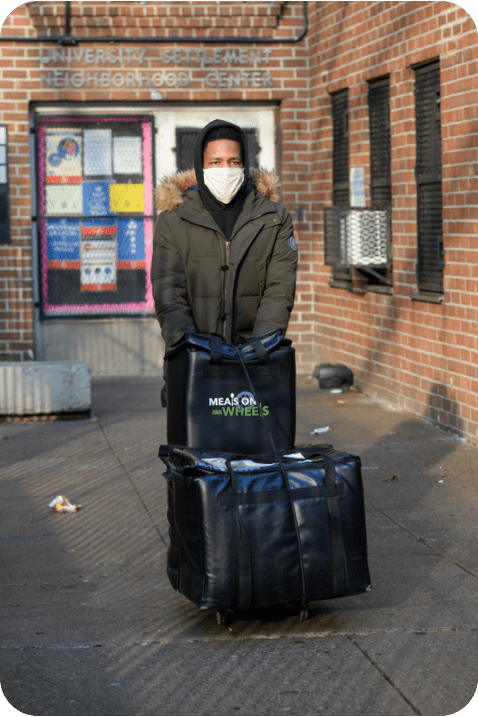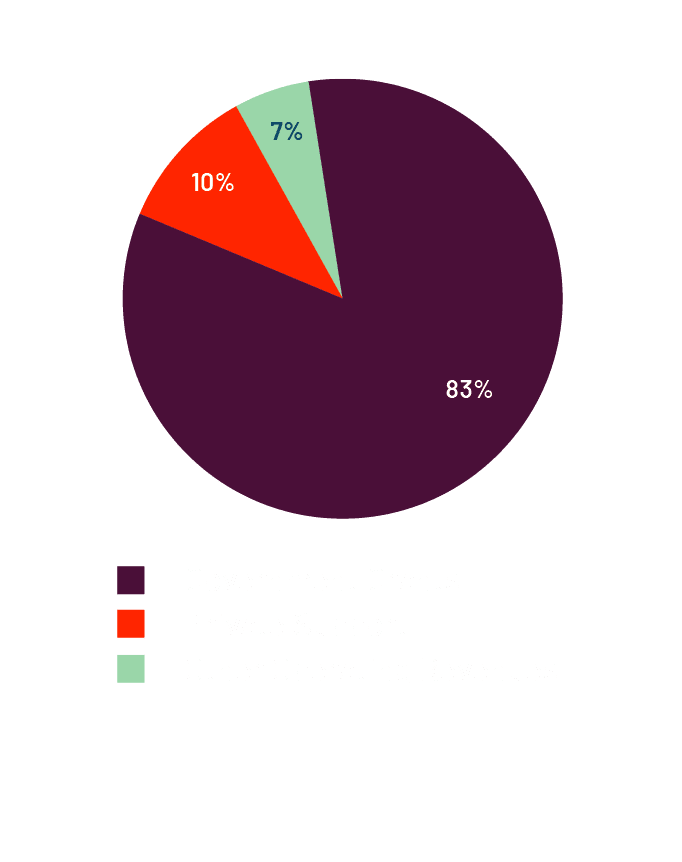 How Our Funding Breaks Down by Program: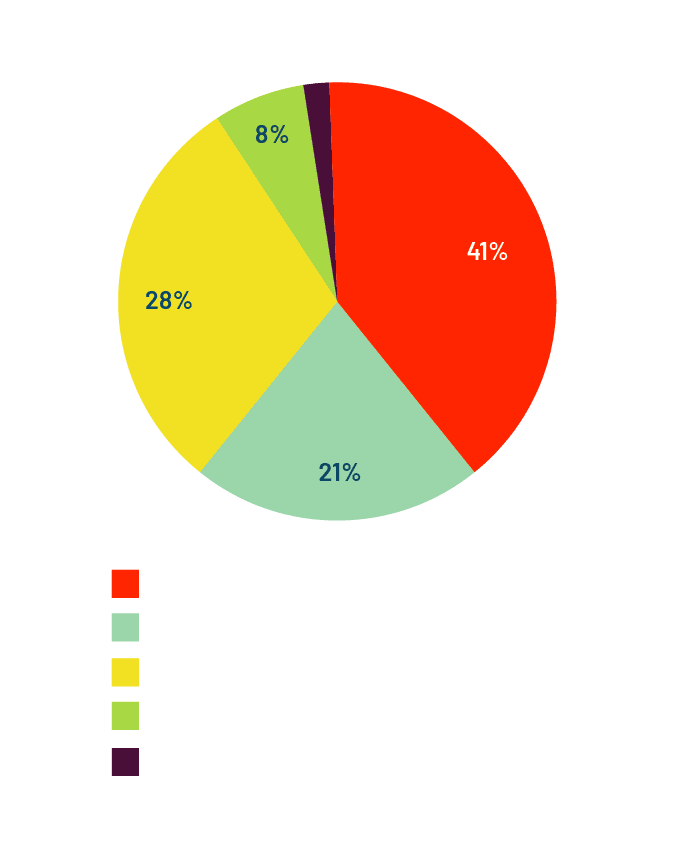 Our Budget Primarily Funds Programming: Thank you to everyone who supported our programs during Fiscal Year 2020! As we transition from crisis to recovery, our neighbors will be counting on our partnership more than ever – it means a lot to know that you've got our back!
The Donors listed below made gifts to University Settlement
during the 2020 fiscal year: July 1, 2019–June 30, 2020.
Anonymous Donors (7)Julie and M.P. AaronsonK. David and Kathleen AaseMelissa Aase and Brian BergenDonna AaseDonald Abelson and Joseph EverettValerie and Steve AbrahamsLouis and Anne Abrons Foundation, Inc.Karen AdolphAIGJane and Norman AlpertChristiane AmanpourAmerican Council of Learned Societies Jessica AndersonMarcia and Lawrence AndrusArcamax Publishing, Inc.Adele ArmstrongThe David Aronow FoundationNancy Arum and Jonathan EvansLily Auchincloss FoundationBrenda and Michael AustinMichelle and Bert BacharachAnna and Dean BackerThe Phyllis Backer Foundation, Inc.Adrian BanksYfat Barak-CheneyThe Barker Welfare FoundationBear Givers, Inc.Betsy BeierArthur BelliniApril and Jim BensonMargaret and Corey BensonYona BenyaminiMarilyn and Boyd BergenHenry BergerCarl BergeronJeanne BergquistJoan and Ira BerkowitzWilliam BerleyLen Berman and Lori ZeltserRachelle and Robert BerneElissa and Matthew BernsteinElena BertozziBeta Clinton CorpBIDS Holdings L.P.Charles Glenford BigelowLaura BiscottoKyle BlackmonBlackRock, Inc.
Stephanie Batten BlandEmma and Jason BlochAlison and Joshua BlockAlex BlueAndrew BoasJeremy BolgerDavid BolotskyPhilip BorsLarry BortoluzziAmy Brenna and Stan LitowElaina BrillantesSarah and Stuart BrittonBrooklyn Community FoundationGail BrownJoshua BrownLeslie BulionJ.E. & Z.B. Butler FoundationMiriam CalabroMatt CamussiCapital One FoundationAmelia CarleyWilliam Cavanagh and Ricki GardnerSergio CervettiArt Chang and Allison ThrushTiffany ChangSamuel ChapinLinda ChapmanCharities Aid Foundation AmericaCharles Hayden FoundationSteven ChartoffChild Welfare FundLeslie ChiorazziFaye ChiuMary Ann Chiulli and Robert MooreBarbara Clapp and David AdamsFrank E. Clark Charitable TrustFern CohnLewis ColeMarjorie and Steven CornRuth and Andy CotugnoJohn Coyne and Elizabeth ZeldinJanice and Alan CravenElizabeth CuccaroRafael DalcolmoTheoharis DavidCarla DavidsonPamela De Toledo and Orlando ArtzeAlex Del GiudiceDelancey Street AssociatesJonathan DembrowMarjorie Detkin FeldmanDavid DiPietroMaggie DollardJen DomanPatricia DonnellyCharles Dorr and Maggie MorrisBarbara DraiminRichard Drescher and Kara CummingsNancy Drosd and Charles SchwartzDuff & Phelps Charitable FoundationVictoria DuffyAudrey DuncanJennifer and Gerard DuphineyMichael Eberstadt and Nina BeattieThe Edith Glick Shoolman Children's FoundationBezalel and Ron EichlerFrancie EinenkelDina Eisinger and Marc LangeDan ElharrarMark ElliottEpstein Teicher PhilanthropiesRenée EubanksTara Eubanks-BelleThe Fan Fox and Leslie R. Samuels Foundation, Inc.Mark and Maria FedermanHerbert FellermanDouglas FentonFlorelyn FineJames FinkelFirst Republic BankSheldon FirstenbergJudith Fisher and Mark AllenRonni and John Fisher5 Deadly VenomsFive Point Runners Track Club, Inc.Judy and Alan FleischPaul Francis and Titia HulstPamela FrederickLinn and Steven FreedmanFried, Frank, Harris, Shriver & Jacobson LLPAllison and Ben FriedlandJeffrey FriedmanRichard FriesSherry and Edward FrohlichNadia and John GagnierHeidi and Christopher GalliAnn and Barry GaltonDaniel GarciaEllen GarveyPeter GeeGeorge P. Wakefield TrustAnat GersteinGerstner Family FoundationCathy GinsRobin GlazerJoshua GoldbergHeather and Ethan GoldmanRobert GolubIrma GonzalezLawrence GordonJohn GrayMichael GreenNancy GreenblattMichael Greene and Lori Beth BrandstonPatrick GrunbokKatherine GuentherMartin GuggenheimHale Gurland and Elizabeth SandersRonny GutfreundAurora GuzmanRosalie HanlonMomoko HanyudaBrian HarperAdelaide HaskellDavid Hellerstein and Lisa PerryRichard HershmanShareen Hertel and Donald SwintonSarah HipkensElizabeth HiresMichael Hirschhorn and Jimena MartinezAndrea Hirshman and Michael GreenHelen and Paul HoeffelDavid HoffmanBarbara and Pierre HohenbergSherry HornRobert HowittJulia Hull PlanamentoDavid Hurwitz and Claudia FineWilliam HutchinsonThe Hyde and Watson Foundation David IchelRalph IoccoHelen JacobsScott JacobsJoan JankellLinda and Morton JanklowJanklow FoundationRoy JayPatsy JeffersAdam JoelKen JosephJames KagenJustyna Kanigowska-HernandezLisa KaplanRochelle KaplanJennifer and Steven KasoffMichael KatzKDC Real Estate Development & InvestmentsKelson FoundationJane KeltonKristen and Peter KernErika KernMalini KhoranaMark Kingdon and Anla Cheng KingdonPhilip Kirkman and Shannon McLaughlin-KirkmanStella KiyotaKKR & Co. Inc.Diana and Tod KlebanoffPeter KleinbardWilliam Knapp and Judith BellMargaret KohnRandi and Michael KollenderSusan G. Komen FoundationJohn KontogianisMarian and Philip KorensteinMarian and James KrauskopfElissa Krauss and Harriet GrimmBrian KrisbergR.P. KurshanJanet Kyle-OlinPhelim KyneRosalind and Richard LarschanMary Ann and Terry LeeJanice Lee and Stuart ShapiroJessica LeeJeremy LeedsPaul LeGendreMark LeimanDavid Leon and Barbara HansberryJosephine LeoneLES EventsAlice and Charles LevienRachel Levine and Andrew CeresneyLeslie and Allen LevinsonFredrick Levy and Katharine GruberRonald LevyElaine LiQuan LieuJoanne LoweLois and Jerome LowensteinRosemary and David MandelbaumRía and Robyn MarBenita Cooper Marks and Ted MarksNancy and Edwin Marks Family FoundationThe Carl Marks Foundation Inc.Lawrence MartzFrank MassaroSandeep MathraniSheila MatlinBrianna McCartyMatthew McLennanDaniel McWeeneyRich Medór and Patty StacoAnne MeisenzahlRegina Melly and Robb NapolitanoJoshua MeltzerBethany and Euan MenziesHoward Messing and Jean Ann RyanMetzger-Price Fund, Inc.Darren MeyersCeleste Micelotta and Andrew MaloneMichael Kwartler & AssociatesLillian MillerGiulio MinguzziMelanie and Norman MintzMizuho USA Foundation, Inc.Kathleen Molony and Richard HollingsworthKatherine MooreMoriah MooreLoraine and Thomas MorganKate and Hans MorrisPeggy MortonMarsha Morton and Michael ZisserMerv MurphyNational League of CitiesEllen and George NeedhamLiron NelikLindsey NelsonWilliam NeubauerNew York State Transition PartnersThe New York Community TrustNew York State Health FoundationNew York Theatre WorkshopNew York UniversityIrene NgRichard NgSandra NorinskyNovartis Pharmaceuticals CorporationUchendu NwachukuNYU Community FundWilliam J. and Dorothy K. O'Neill FoundationOak Foundation Rosemarie OakmanMargo and Michael OhanaAlex Okun and Mary McCordMark OsmondElizabeth Overbay and Matthew TraupmanMichael PadroMichelle PaigeRayan ParikhSara PastiMargaret PeckAmanda PeckBrooke and Mark PedersonKresimir PenavicMarianita and Robert PerlsteinLacey and Steven PerriconeJeanette PertzVivian PhelpsThe Pinkerton FoundationElliot PipernoSusan and Michael PlanMario Ponce and Irene Bruynes PonceMark PooleLeah and Clayton PopeHelen PotterLisa PrawerAlden ProutyDavid ProvidentiRadunski Family Fund, Inc.Steven Ralston and Rob HairRalston Family FundRegal FoundationThe Research Foundation of the City University of New York Lisa and Paul RevsonMarni RiceThomas RileyCraig RobertsRobin Hood FoundationRogers Family FundLeo Rosner Foundation, IncTodd RubinsteinRita RudnickiLisa and Robert RuoccoStephan Russo and Susan SouderLynne SachsDavid SaltmanCarol SamolGayle SandersSantander Bank, N.A. Benjamin Schall and Jeannie MunEllen Schall and Steve KelbanLarry Schall and Betty LonderganMarie and Richard SchallSteve Schall and Alyce RussoPatricia and Timothy SchantzGail Schargel and William PowellAmy-Marie SchaubBrad SchelerBetsy Pinover Schiff and Edward SchiffLisa SchillerNeal Schmidt and Adrianne MeislerTinya SeegerAntoinette SegretoDavid Shapiro and Liz LangeJoyce Shapiro GordonSusan Shaskan LuseNeil SheaCorinne ShmuelKate ShuhartSidley Austin LLPAndrew SilberfeinEric Silver and Chiya IkemiJeffrey and Andrea SilverJonathan SinagubMartin SmithmyerAmy Davidson Sorkin and David SorkinMargaret and Albert SotoHilary SpannLoretta and Dennis SpatesJudith Spektor and Barry BenepeLois and Arthur StainmanStavros S. Niarchos Foundation for CharityNorman SteeleStephen SteinbrecherOona Stern and Alex ManueleHarly StevensLinda Sue and Don StrandStrypemonde FoundationJustine and James SugrueAnne and Elliott SumersKrishna SwamyAndrea SwensonStephen SymondsAli TahirDeborah TannenTAO Group Operating LLCTarget Charitable GivingTravis Terry and Rebecca VelezTiger FoundationTilitLaurie M. Tisch Illumination FundTopel and Silver, CPAs PAAnn TracyKonrad TrewickTriskeles FoundationZachary TroiaAdele and Jerome TrupinDeborah TrupinJoe TsaiBill Tsapalas and Heather ChurchDenise and Joshua TupperBarbara TurkUJA-Federation of New York United Neighborhood Houses of New York, Inc. Antonio ValentinLori Van HoutenViacomDiane and Frank VigilanteViking Global Foundation, Inc.Vite LLCThe Laura B. Vogler Foundation, Inc. Voya FinancialNancy WacksteinCarol WangDan WassermanKathleen WebsterLouise and Alan WeilGreg WeinbergerLauren and Andrew WeisenfeldKaren and Greg WeissJerrold WexlerTanya WexlerEthan WienerAviva WillMelinda Williams and Mark MurrayLeslie and Ronald WintersAlan WintersCaius WongDiana WongKevin WongAviva YakrenHumu YansaneE. S. YeeNeal Young and Carla Johnston YoungKrystal ZamoraLuis ZenoAndrew ZhuTessa and Ian ZillaZona Rosa BrooklynPhil Zwickler Charitable and Memorial Foundation Trust
District Attorney of New York County
New York City Council
NYC Administration for Children's Services
NYC Department for the Aging
NYC Department of Cultural Affairs
NYC Department of Education
NYC Department of Health and Mental Hygiene
NYC Department of Housing Preservation and Development
NYC Department of Youth and Community Development
NYS Council on the Arts
NYS Department of Health
NYS Education Department
NYS Office for the Aging
NYS Office of Children and Family Services
NYS Office of Temporary and Disability Assistance
NYS Office of the Attorney General
The Mayor's Fund to Advance New York City
US Department of Agriculture
US Department of Education
US Department of Health and Human Services
US Federal Emergency Management Assistance
US National Endowment for the Arts
Benjamin Schall
Co-Chair
Steve Schall
Vice President
Renée Eubanks
Vice President for Programs
Emma Bloch
Vice President for Finance
Ian Zilla
Secretary
Len Berman
Stefanie Batten Bland
James Finkel
Hale Gurland
Ken Joseph
Alan Winters
Co-Chair
Rich Medór
Vice President for Audit
Ronni Fisher
Vice President for Programs
Tom Morgan
Treasurer/VP for Finance
Steven Perricone
David Shapiro
Harly Stevens
Aviva Will
Andrew Zhu
Benjamin Schall
Co-Chair
Alan Winters
Co-Chair
Steve Schall
Vice President
Rich Medór
Vice President for Audit
Renée Eubanks
Vice President for Programs
Ronni Fisher
Vice President for Programs
Emma Bloch
Vice President for Finance
Tom Morgan
Treasurer/VP for Finance
Ian Zilla
Secretary
Len Berman
Stefanie Batten Bland
James Finkel
Hale Gurland
Ken Joseph
Steven Perricone
David Shapiro
Harly Stevens
Aviva Will
Andrew Zhu